Medium
Full Strategic Plan and Review
Executive Summary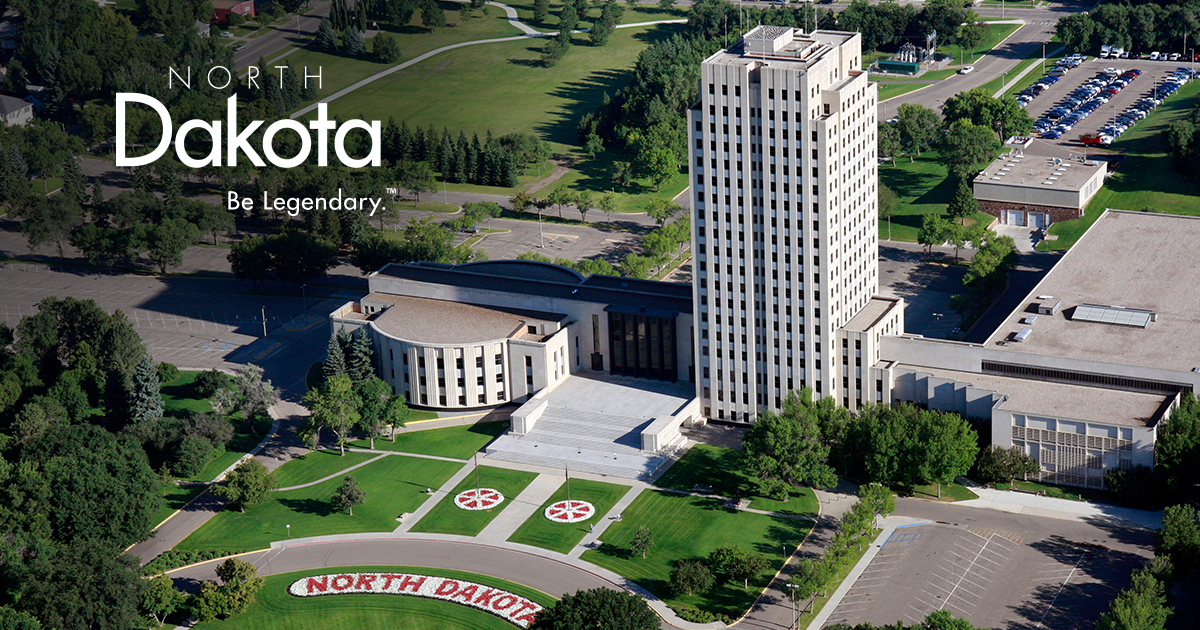 In the government sector, we face continual challenges and opportunities in how we leverage technology to serve citizens. As we ready ourselves for the next legislative session, we are faced with new and unique trials brought on by the COVID-19 pandemic and the impact it has had on our state. Every difficult experience such as this, however, gives rise to new occasions to change the world for the better. It is with this concept in mind that we head into the 2021-2023 biennium.
Many organizational and technological changes that were in process as the pandemic hit have helped us respond quickly and decisively to help protect lives while ensuring the secure delivery of government services. Governor Burgum's aspiration to empower people, improve lives, and inspire success, will help to guide NDIT as we strive to efficiently empower citizens with trusted information. And as our state enters the post-pandemic world, we hope to proceed boldly with an improved government experience, the likes of which we never dreamed possible even a few years ago.
As we move into the next biennium, we will continue to pursue ways to automate more work, increase the security of our data and systems, streamline processes, and deliver world-class outcomes. We will continue to do this by harnessing technology in ways that enable a more transparent, data-driven approach to governance; by rolling out an improved customer success framework; by reinventing digital experiences; by empowering North Dakota to be a national leader in cybersecurity education; and by supporting a "connected anywhere" access to government services and tools for our citizens and staff. 
In the modern world, technology is the backbone that supports much of what we do, whether it is improving Main Street, supporting public health, transforming education, improving tribal partnerships, or reinventing government. As NDIT "works as one" with legislative partners and other stakeholders, we will relentlessly move closer to our goal of delivering the most efficient government services in America.
Shawn Riley,
CIO
Efficiency and Effectiveness of ITD
In order to maintain and improve the efficiency and effectiveness of processes and the provision of technology services, NDIT utilizes a seven-step cycle for developing goals, strategies and activities, and for executing and maintaining the initiatives that support strategic delivery:
1. Listen
All efforts start with listening to our stakeholders to understand what they need, how they need it, and what we need to do to meet their expectations. To better understand this as we head into the next biennium, NDIT has created a Customer Success Office. This office utilizes industry standard practices and processes for collaborating with business units to determine and prioritize IT needs.
2. Assess
A key component of self-improvement is understanding your strengths and weaknesses. And for any organization, improvement also includes understanding the current state of its strategies and tactics, and how those are currently supporting the global vision. In IT, how strong or weak an organization is in any key discipline can be defined using a "Capability Maturity Model."  To better understand NDIT's maturity, and to provide a baseline to measure future improvement, NDIT worked with a 3rd party to conduct an operational assessment across core processes in 2017. Many of the operational initiatives we have implemented since, and continue to prioritize for the future, are tied to raising that maturity level against the 2017 baseline. 
3. Envision
Once we understand what is needed of us, and what the maturity level of our capabilities are, we need to envision what we should become. NDIT's current vision is, "How might we provide world class technology and service?" By phrasing our vision as a question, we are always asking ourselves how we can do better.
4. Strategize
Strategy setting is the next step in the efficiency and effectiveness process for NDIT, and it includes the development of goals and objectives that will help the organization realize its long-term value.  See below for more information on what NDIT has planned for 2021-2023.
5. Deploy Tactics
Tactical planning translates broad strategies into specific initiatives that help improve the organization. At NDIT, management reviews strategies, prioritizes initiatives, and either starts, stops, or continues those initiatives depending on how they currently align to the state's IT goals.  This is done on a 90-day cycle to ensure timely adaptation to evolving customer needs and technological advancements.
6. Manage Logistics
Logistics is the detailed organization and implementation of a complex operation. At any given time NDIT is working on numerous initiatives that move us toward our vision of becoming a world class IT organization.  Delivering on these initiatives requires the coordination of stakeholders across many lines of business belonging to numerous, disparate groups. NDIT leverages various IT Governance and IT Management processes to ensure teams work together to deliver unified outcomes. Examples include the IT Coordinators Council, the State IT Advisory Committee, and various Enterprise (IT) Architecture teams.
7. Maintain Operations
At the operations level, NDIT staff employ a myriad of sub-processes to ensure initiatives are sustained over the long term. Operations staff ensure that network infrastructure, servers and other devices are available and secure; that everyone's workstations are functioning; and that all issues related to any IT system are escalated to the right teams for resolution in an efficient manner.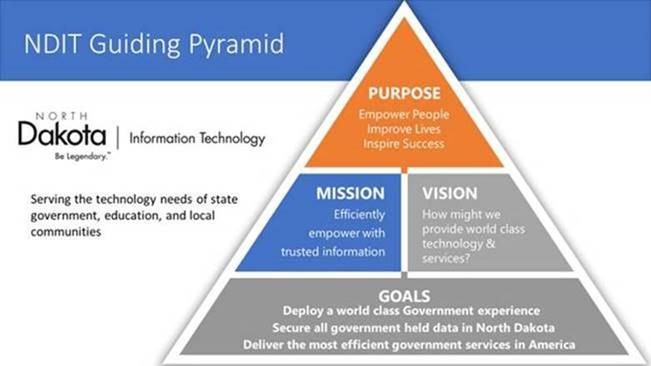 Purpose, Mission, Vision, Goals, Objectives
We use our Strategic Pyramid (image at right) to show the interconnectedness of our organization's primary directives. To review an overview of NDIT's purpose, mission, and vision – along with our goals, objectives, key results, and strategies for 2021-2023 – please see our strategy presentation.
Short-Term and Long-Term Strategies and Activities
The project investments in the next biennium will focus on three core areas:
One: Accelerating the replacement of "Ancient Technology" (e.g., moving applications off mainframes and onto current platforms)
Two: Business process improvement and automation technology (e.g., enabling government to provide better service, less expensively)
Three: Cybersecurity enhancements (e.g., ensuring that private information stays out of the hands of "bad actors")
To review an overview of NDIT's Short-Term and Long-Term Strategies and Activities for 2021-2023 – please see our strategy presentation.
A list of initiatives will be updated with the Statewide IT Plan Dashboard in December 2020.​