<< All News
Tuesday, February 21, 2023
Categories:
Feature Stories
Cybersecurity
Education
BISMARCK, N.D. – North Dakota Information Technology congratulates Red River High School on taking first place in the 2023 North Dakota Cyber Madness High School Tournament. The two-day event held at Bismarck State College welcomed twenty teams representing twelve high schools located across the state.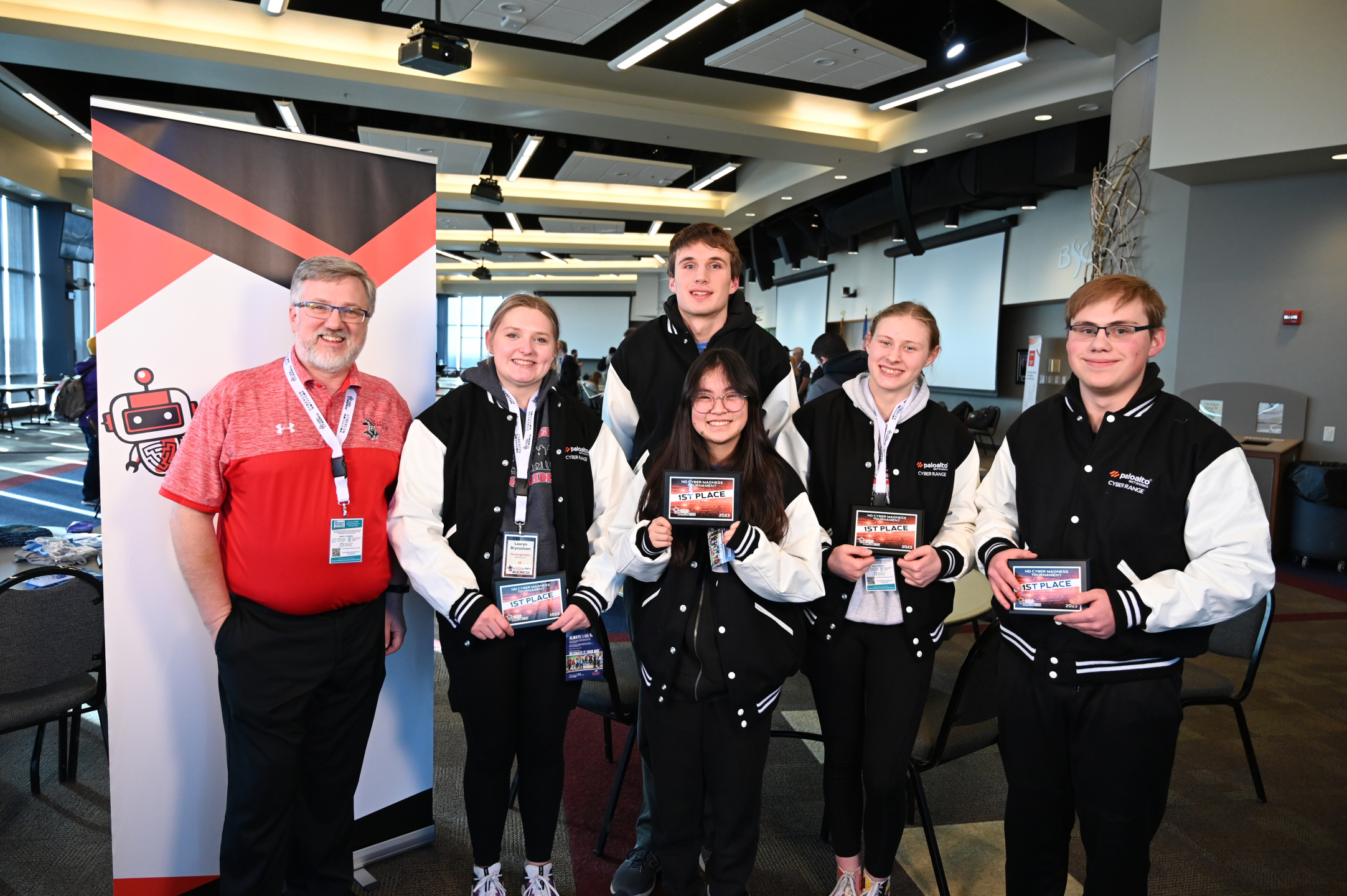 "At ND Cyber Madness, we are fostering the next generation of cybersecurity leaders and paving the way for a secure future. The passion and talent displayed by these students is a testament to the success of North Dakota's PK-20W Initiative and the promising future of our industry" states Michael Gregg, Chief Information Security Officer. "Congratulations to the 2023 Cyber Madness champions, who have demonstrated a deep understanding of the importance of cybersecurity and a commitment to protecting our digital world."
The multi-round style competition is based on several concepts including physical and virtual addressing, packet encapsulation, network and endpoint security technologies, security principles, and more. Each team consists of five students plus a coach and/or advisor. Teams must complete challenges to score points and advance in ranking.
Participating High schools include Alexander Public Schools, Beach High School, Bismarck High School, Century High School, Drake Anamoose High School, Fargo Public Schools, James Valley Career & Technology Center, Legacy High School, Red River High School, Tioga High School, Turtle Mountain Community High School, and Washburn Public School.
ND Cyber Madness planning partners include North Dakota Information Technology, North Dakota Career and Technical Education, North Dakota Department of Public Instruction, North Dakota Department of Emergency Services, North Dakota Department of Health and Human Services, and Palo Alto Networks.
Second place went to James Valley Career & Technology Center, and Tioga Public Schools placing third. The top placing teams are awarded scholarships to the university of their choice.  
Emerging Digital Academy through the generosity of SCHEELS has also offered each member of the winning team a full scholarship valued at $15,500 to their 20-week Full Stack Engineering Program. Emerging Digital Academy is North Dakota's first and only immersive coding bootcamp. "The students participating in this tournament represent the future of technology in North Dakota, and we couldn't be more excited to provide an opportunity to further their education," said EDA Student Life and Recruitment Manager Katie Burington. For more information about this program visit Emerging Digital Academy's website at https://emergingacademy.org/
C O N T A C T : 
 Jeremy Fettig      |    701-226-4569 
Alisa Cook      |    701-328-7408  
<< All News