<< All News
Sunday, November 20, 2022 - 11:00pm
Categories:
Gov. Doug Burgum today congratulated Horizon Middle School for taking first place in the ND Cyber Madness Middle School Tournament. Six finalists from the east competed from Grand Forks and five finalists from the west competed from Minot, with all 11 teams vying for the statewide crown on Nov. 18.      
"Congratulations to top finisher Horizon Middle School and all of the competitors in the first-ever North Dakota Cyber Madness Middle School tournament," Gov. Doug Burgum said. "By matching their skills against their peers, they have showcased how North Dakota students are learning about cybersecurity and applying that knowledge to prepare for potential careers in this rapidly growing field." 
The ND Cyber Madness middle and high school tournaments are friendly competitions to get students involved in cybersecurity. With almost a 0% unemployment rate, jobs in cybersecurity are promising for North Dakota students.    
"Cybersecurity already plays an essential role in our lives. These middle school students are setting a wonderful example to students across the state as they bring attention to something that is now essential to every student, every educator, and every parent," said North Dakota Chief Information Officer Shawn Riley.  "Congratulations to Horizon Middle School and to all the students who participated in the first-ever middle school cyber competition." 
Second place went to Fairmount Public School and third place went to St. John's Academy. The winning teams will be awarded scholarships to the college of their choice.  
The ND Cyber Madness Middle School Tournament is aligned with North Dakota's PK-20W Initiative- Computer Science and Cyber Education | North Dakota Information Technology. Named "PK-20W" to reflect every student from pre-kindergarten through Ph.D. and workforce, it is an award-winning, statewide approach to computer science and cybersecurity education and workforce training. The PK-20W coalition is comprised of more than 40 public and private sector participants who share a goal of "Every Student. Every School. Cyber Educated." PK-20W was also the recipient of a Governor's Award for Excellence in Public Service and was a 2020 CSO50 Award Winner. 
### 
C O N T A C T :  
Alisa Cook      |    701-328-7408   
acook@nd.gov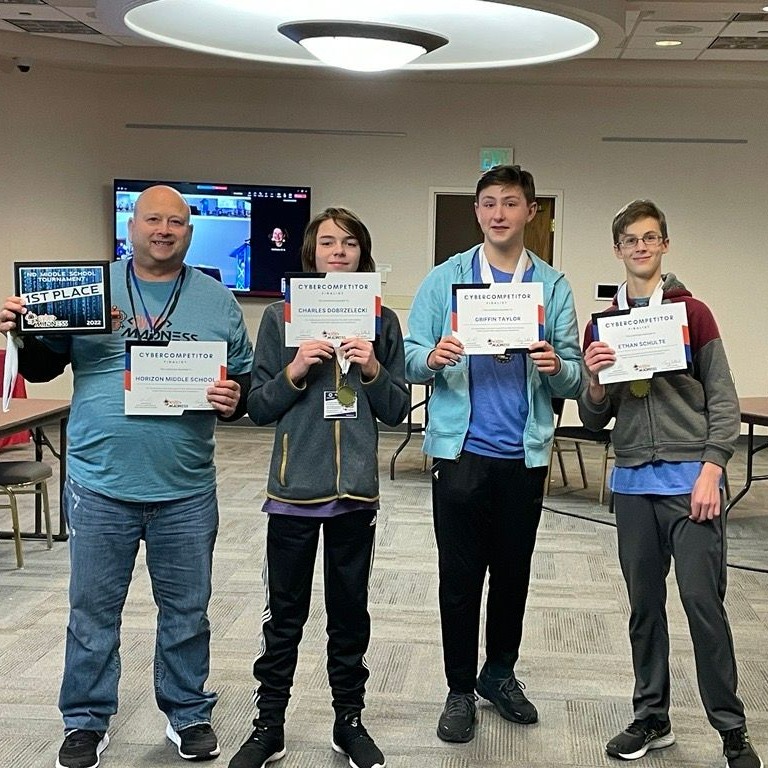 << All News