Medium
Executive Summary 
As the new biennium approaches, we face continual challenges and opportunities in how we leverage technology to serve citizens. From a single mother receiving assistance from state programs while she pursues education or training, to preparing students in rural and urban areas statewide for 21st century jobs, technology has an impact on every North Dakotan.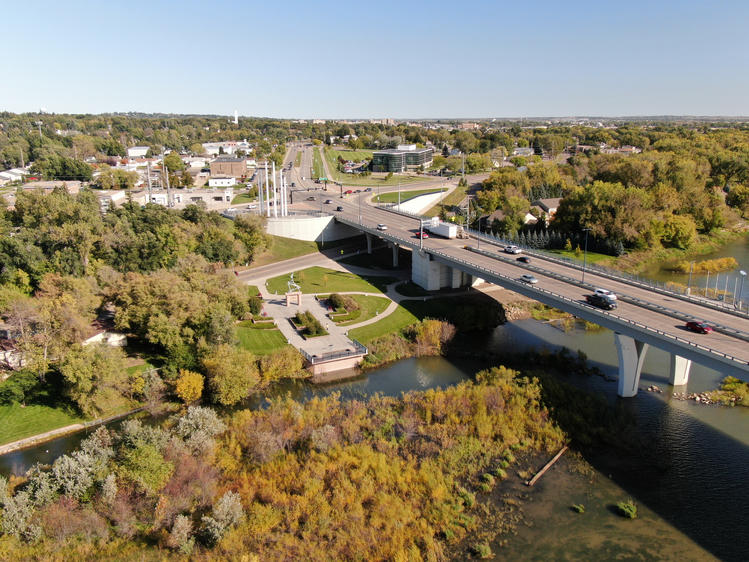 With that, all technology goals support the improvement of the technology landscape across the IT core pillars of:
Alignment: Aligning IT investments and/or structures with an agency's, or the state's, most significant business needs.
Efficiency: Increasing the efficiency of resources, effort, or process; increasing value.
Delivery: Improving how services are delivered in a system-wide architecture.
As a state, we are pursuing technology solutions that enable more efficient service delivery. We are implementing enterprise solutions, like the new state website platform, that provides a more consistent experience for users and a more streamlined, efficient foundation for participating agencies, helping save time and taxpayer dollars. We are also taking a more citizen-centric approach, with a goal of having a 360-degree view of citizens that will help provide the right services, at the right time.
Cybersecurity, and the protection of our state's and citizens' data remains a critical priority. We continue to work closely with the Legislature to enhance our cybersecurity posture. Moving to shared technology platforms, like the state website platform, also enables a standard, streamlined approach to our operational security. In addition, unifying the hundreds of disparate IT team members and processes from across agencies will help ensure clear priorities and a uniform approach to North Dakota's Information Technology goals, priorities and approaches, including and especially with regards to cybersecurity. Aligning the people, processes and approaches that span our IT enterprise will ultimately enhance service delivery, efficiency and security.
Within the context of Governor Burgum's five strategic initiatives: Main Street, Behavioral Health and Addiction, Transforming Education, Tribal Partnerships, and Reinventing Government, we also have new opportunities to work as one to strengthen our economy and our communities. With emphasis on Working as One, we are pursuing new partnerships within state government and with private sector partners to help advance our goals to become optimally aligned, highly efficient, and to be able to deliver on a world-class level.
Harnessing technology in new ways enables a more transparent, data-driven approach to governance. Using business intelligence tools in new ways gives leaders at all levels greater insight to help inform decisions. Valuable resources like the Main Street Community dashboard were designed to help community leaders better visualize and understand available data for decision making. A new version of Insights.nd.gov highlights statewide education and workforce data to help parents, students, teachers and administrators understand labor forces and better connect educational opportunities to 21st century workforce needs. These dynamic, interactive and visual tools help leaders throughout the state better manage programs, support economic growth and prepare our students and workforce for success in a highly competitive global economy.
Embracing the technological change that is disrupting virtually every industry provides an opportunity to challenge the status quo, to move from "Legacy ITD" to a new "Unified IT," and to ask ourselves, "How might we … ?" in ways that will benefit our citizens and make a positive impact on our state.
I look forward to continued collaboration with legislative partners and other stakeholders as we work together to Empower People, Improve Lives and Inspire Success.
Shawn Riley,
CIO
Efficiency and Effectiveness of NDIT
In order to maintain and improve the efficiency and effectiveness of processes and the provision of technology services, NDIT has enacted a seven-step cycle for developing goals, strategies and activities, and for executing and maintaining the initiatives that support strategic delivery:
1. Listen
All efforts start with listening to our stakeholders to understand what they need, how they need it, and what we need to do to meet their expectations.  To better understand this as we head into the next biennium, NDIT conducted interviews with key stakeholders using a methodology developed by the Info-Tech Research Group.  The results of the interviews are a series of baseline metrics for perceived satisfaction of IT services that will help us understand where improvement is needed, and where exemplary service exists to be maintained. See the Appendix below for details.
2. Assess
A key component of self-improvement is understanding your strengths and weaknesses.  And for an organization, improvement also includes understanding the current state of its strategies and tactics, and how those are currently supporting the global vision.  In IT, how strong or weak an organization is in any key discipline can be defined using a "Capability Maturity Model."   To better understand NDIT's maturity, and to provide a baseline to measure future improvement, NDIT worked with a 3rd party to conduct an operational assessment across core processes. 
Also, in 2017, legislative management studied the delivery and cost of NDIT's services provided to state agencies. The study included a review of the department's cost of services, staffing, and billing processes.
See the Appendix below for details on both studies.
3. Envision
Once we understand what is needed of us, and what the maturity level of our capabilities are, we need to envision what we should become.  NDIT's current vision is, "We see NDIT as a leader and trusted business partner for strategic IT services within government and education."  But as we look ahead, as we work toward becoming a state government in which we "work as one" toward common IT goals, we must ask ourselves, "How might we provide world class technology and service?"
4. Strategize
Strategy setting is the next step in the efficiency and effectiveness process for NDIT, and it includes the development of goals and objectives that will help the organization realize its long-term value.  See the Goals and Objectives section below for more information on what NDIT has planned.
5. Deploy Tactics
Tactical planning translates broad strategies into specific initiatives that help improve the organization.  At NDIT, management reviews strategies, prioritizes initiatives, and either starts, stops, or continues those initiatives depending on how they currently align to the state's current IT goals.  This is done on a 90-day cycle to ensure a timely adaptation to evolving customer needs and technological advancements.
6. Manage Logistics
Logistics is the detailed organization and implementation of a complex operation.  At any given time NDIT is working on numerous initiatives that move us toward our vision of becoming a world class IT organization.  Delivering on those initiatives requires the coordination of stakeholders across many lines of business belonging to numerous, disparate groups.  NDIT leverages various IT Governance and IT Management processes to ensure teams work together to deliver unified outcomes.  Examples include the IT Coordinators Council, the State IT Advisory Committee, and various Enterprise (IT) Architecture teams.
7. Maintain Operations
At the operations level, NDIT staff employ myriad sub-processes to ensure initiatives are sustained over the long term.  Operations staff ensure that network infrastructure, servers and other devices are available and secure; that everyone's workstations are functioning; and that all issues related to any IT system are escalated to the right teams for resolution in an efficient manner.
Mission, Vision, Guiding Principles
Our Mission
Provide Leadership and knowledge assisting customers in achieving their mission with the innovative use of information technology.
Our Vision
We see NDIT as a leader and trusted business partner for strategic IT services within government and education.
Our Guiding Principles
Teamwork, Respect, Achievement, Integrity, Leadership, Service
Goals and Objectives
As stated in the executive overview, the core strategic goals and objectives for the next biennium are to align IT, increase the efficiency of IT, and to improve on the delivery of IT. These IT goals are in place to support Governor Burgum's five strategic initiatives. NDIT's strategic goals are also found on screen one of the Statewide IT Plan Dashboard. 
Alignment
Aligning IT investments and/or structures with an agency's, or the state's, most significant business needs.
Efficiency
Increasing the efficiency of resources, effort, or process; increasing value.
Delivery
Improving how services are delivered in a system-wide architecture.
Short-Term and Long-Term Strategies and Activities
There are many IT initiatives that are in progress, or are planned, in support of the strategic goals of Alignment, Efficiency, and Delivery.
Following is an example selected from the list of initiatives. A full list, which is updated regularly, may be found on screen two of the Statewide IT Plan Dashboard.
Unify IT Services Across the Governor's Cabinet
K-20 Cyber Education Initiative
Improve the Citizen Experience in Interacting with State Systems
Achieve Operational Improvements by Leveraging Application Platform as a Service
Build the Foundation for a Unified Data Platform
Move the State Toward a "Cloud First" Hosting Approach
Create the Ability for NDIT to Have a Unified Portfolio View of Projects
Mature the Major Incident Process
Create a Multimodal Development Model
Advance the State's Security Posture by Leveraging Existing Investments
Advance Automation and Orchestration of Network Services
Additionally, NDIT is planning major IT projects that, if funded, will provide additional improvements to statewide IT capabilities:
Implementing a New Statewide Interoperable Radio Network
Cyber Security Toolset Modernization
Implementing a New, Comprehensive IT Service Management Solution
Developing the "North Dakota Gateway," a One-Stop Entryway to Government Service Access
Building the Foundation for a Unified Data Platform
Transitioning Additional Applications Off the Mainframe
Implementing a Citizen Relationship Management System
Implementing an Application Platform Solution
Developing a Statewide Land Parcel Dataset
Implementing Additional Automation/Orchestration Tools and Processes
For more in-depth information regarding what these projects entail, see screens three and four of the Statewide IT Plan Dashboard.
Appendix
IT Satisfaction Scorecard
Using a methodology developed by the Info-Tech Research Group, leadership teams from each of the 18 governor's cabinet agencies were interviewed in the 2nd quarter of 2018 regarding their perception of IT. Contrary to traditional surveys, people were asked to reflect upon the value and satisfaction of IT overall; rather than focusing specifically on the Information Technology Department. In short, they were asked how well technology is serving their business needs and expectations; given the collective effort of NDIT, internal resources, contractors, consultants, and software providers.
Please review the IT Satisfaction Scorecard to understand how the value of IT is viewed internally at the state.
Maturity Assessments
In the fourth quarter of 2017 NDIT brought in a 3rd party to conduct an operational assessment of NDIT's core processes in service management, software development, and project portfolio management.  The objectives of the assessment were to provide NDIT a baseline of the agency's current organizational capabilities, to establish goals for future IT process maturity, and to deliver a roadmap of activities to help NDIT achieve this newly targeted level of sophistication. The scales below show the current and future states of process maturity across NDIT as determined by the operational assessment. The scales are based on the industry standard Capability Maturity Model (CMM).
IT Service Management (ITSM)
ITSM is the entirety of core business processes and policies in place to support the daily operations of an IT organization. These processes focus on ensuring that IT services meet customer needs, and include activities such as incident management, change request management, knowledge management, and configuration management.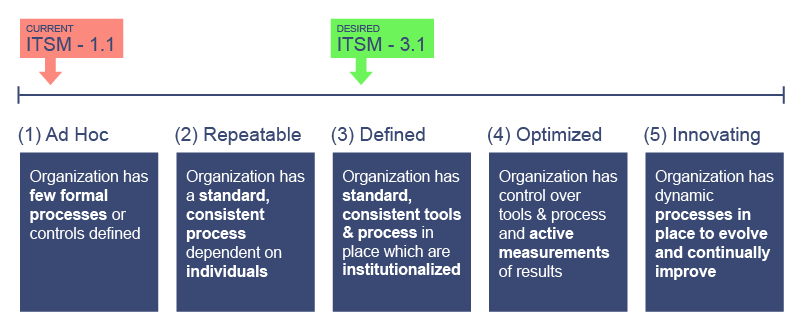 Software Development Lifecycle (SDLC)
An organization's SDLC defines the processes followed throughout the lifecycle to plan, create, test, and deploy software products and services. SDLC processes include disciplines such as request intake, business and systems analysis, software design, software development, quality assurance, system deployment, and system support.

Project and Portfolio Management (PPM)
PPM is the centralized management of the processes, methods, and technologies used by project managers, program managers, portfolio managers, and project management offices to prioritize, select, initiate, plan, control, and close out projects. Effective PPM ensures the right projects are selected to support overall organizational strategies, and that they are implemented successfully.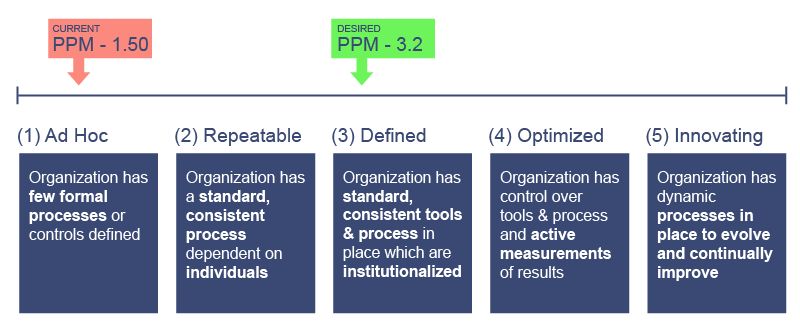 Legislative Survey
In December 2017, the Legislative IT Committee published the results of a survey conducted by legislative management in which state agencies were asked to provide feedback regarding their experiences with services provided by NDIT.
Of the 57 agencies asked to participate, 54 responded with completed surveys. To view this information, please see the results published by the Legislative IT Committee.